NEW YORK — It was 40 degrees and drizzling, and it would not be easy to get the kids to school today. Meaghan Holley, a 30-year-old community worker, was puffy-eyed and had already stepped in dog excrement outside the apartment complex, yet she moved through the building on Dix Avenue in Far Rockaway, New York, with a mix of sleepy determination and cheer.
She knocked softly but briskly on the first door. "Good morning, Love Bugs, it's a beautiful day!" she said through the door. "Psych. It's actually really gross out. But we still have to get up and go to school!"
She jiggled the door handle unsuccessfully while simultaneously pulling out her phone to call the mom. It went straight to voicemail. Holley used Facebook to call the children's older sister, who answered the door.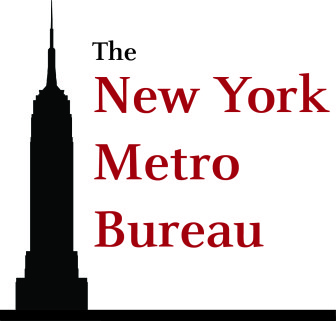 Holley runs Rockaway Rising, a community-based organization that works with youth and families in Far Rockaway, a neighborhood in Queens, New York. When she first started visiting this apartment complex last year, nearly 75 children living there were not attending school on a regular basis, she said. To combat this problem of chronic absenteeism — defined by the U.S. Department of Education as having 14 or more absences during the course of a school year, excused or unexcused — Holley came up with a plan that was uncomplicated: She would personally escort the kids to school each morning.
Plugging community holes
As a child, Holley's mother took in so many homeless people that friends called her house "Hotel Holley." After Hurricane Sandy hit New York, Holley started Rockaway Rising with a handful of private donations. When she realized how many kids in the neighborhood were not attending school on a regular basis, she borrowed a church bus from her pastor and started the #No Excuses Bus, which runs from the apartment building to elementary school Public School 104 every morning. She starts at 7 a.m. with the kids who need to be pulled from their beds and told to get in the shower.
The work doesn't end with the bus. There are also school uniforms to be washed and backpacks and school supplies to be purchased. Moms who need to be picked up from the hospital and fights that need to be broken up. Kids who didn't eat breakfast and families that don't have enough money for a birthday cake.
At 104, the elementary school most children in the complex attend, the chronic absenteeism rate has declined drastically since 2012, from 40 percent to 27 percent in 2015, but it is still nearly twice the national average, and educators and community-based organizations find themselves battling chronic absenteeism on a daily basis.
According to the New York City Department of Education, the chronic absenteeism rate for 2015-2016 was 25 percent, compared to a national average of 14 percent, according to the federal Department of Education numbers. In addition, more than 50 percent of chronically absent students are found in just 4 percent of districts nationwide, New York City being one of those, according Attendance Works, an advocacy organization that compiles data on school attendance nationwide.
The ramifications for a community are steep. Chronic absenteeism in elementary school is one of the best indicators that a student will eventually drop out of high school. "If you're not in school for the fundamental years, then what happens is, the gap widens, and it widens every year, and by the time they get to middle school, the gap is so wide that they're slated for dropout," said Katie Grady, the principal at 104.
And if the student starts to fall behind, "they may even feel like they're a burden to the teacher, which is not the teacher's fault, but the teachers have overcrowded classrooms with 35 kids in the class," Holley said, which increases the likelihood that they won't attend school on a regular basis.
Chronic absenteeism has also been linked to future incarceration, according to Kim Nauer from The Center for New York City Affairs and one of the city's top experts in the field.  "Their first step in that world is when they start missing too much school. It's all correlated," said Nauer.
Chronic absenteeism stubbornly persists in Far Rockaway, as it does in several neighborhoods around the city with similarly high poverty rates. Community workers say the high chronic absenteeism is a symptom of poverty, often compounded by the city's burgeoning homeless problem. According to a 2012 report by Robert Balfanz, Ph.D., a Johns Hopkins University education researcher and chronic absenteeism expert, the primary characteristic of students who miss a lot of school is that they live in or close to poverty.
[Related: Schools, States Should Use Existing Resources to Improve Student Health and Absenteeism]
The apartment complex on Dix Avenue is a squat, utilitarian cluster of five buildings that residents sometimes call "The Shelter Dump," because so many families move here straight from the city's homeless shelter system. More than half of the residents here pay their rent with Section 8 vouchers, according to the building owner's financial records. It's situated halfway between the bay and beach in Far Rockaway, where nearly 17 percent of the population makes less than $10,000 per year, and 30 percent did not graduate from high school.
In areas where chronic absenteeism persists, parents themselves may be struggling with poor living conditions, unemployment and debilitating health issues. "We have a lot of moms who are doing the best with what they've got. Maybe they were not parented themselves. When you don't have enough, you don't have enough. There are so many factors that go into it," Grady, the school principal, said.
"For some kids, going to school feels really far removed from their lives. Maybe they are more worried about putting food on the table, or keeping a younger sibling safe, and school doesn't feel relevant," Holley said.
Inside one apartment, the gas burners on the stove are set on high, their blue flames 3 inches tall, in order to keep the apartment warm. The mom, who had a heart attack a few years ago and now stays in bed until the afternoon, is asleep on a sheetless pull-out couch in the living room. Some doors are missing from kitchen cabinets, and huge spots of bare plaster dot the wall. In the corner a stack of framed posters sit, waiting to be hung. Later in the week, the mom would spend three days in the local hospital after experiencing heavy chest pains.
Holley goes straight to a bedroom in the back that is shared by three siblings. When she opens the bedroom door, it comes off in her hands. She shrugs, sets it aside and kneels by the lower bunk bed, shared by two sisters. She scratches backs, rubs legs and finally pulls one of the kids out of bed. "Why you always be dragging me?" the 5-year-old girl mumbles.  
"I'm sorry love, but it's time for school," Holley answers.
Their brother, who is 7, would not be going to school that day. Last month, he broke his collarbone when a gate in the apartment complex fell on him. Another characteristic of  chronically absent children is that they are more likely to be experiencing health issues that are directly related to their poor living environment. Holley has seen squirrels chewing on elevator cables in the building, and several residents said that rats and roaches were a constant presence. Asthma, a condition that leads to a lot of school absences at 104, according to Grady, has been linked not only to environmental pollution but to the presence of mold and vermin in the child's home environment.  
Nauer, from The Center for New York City Affairs, is a proponent of individualized strategies, like the #No Excuses Bus. "It's important for each school to look at what is driving chronic absenteeism," Nauer said. "Teachers and principals have to figure out what the issue is and really come up a strategy,  not just use these blanket solutions."
When Holley started the #No Excuses Bus last March she had also unknowingly stumbled upon an additional obstacle to attendance in the neighborhood: the city's public school bus system. Kids who live less than a mile from school and are above the 2nd grade are ineligible for the public school bus, and a lot of parents aren't comfortable letting an 8-year old make the .62 mile trek to PS104.
"It's a 20-minute walk to the school, which is hard for third graders," said Keisha Clarke, a 35-year-old mother of four. "And maybe it's raining hard, and the streets are flooded, and our umbrella is broken," she added.
"Wait until it snows; they're going to be missing a whole of school," said Marilyn Fernandez, mother of three.
Outside, more kids gather in front of the apartment building, waiting on the #No Excuses Bus. It was one of those days when it is too cold for a rain jacket but there is just enough rain to soak through a winter coat. The choice was to freeze or get wet, yet the kids stood stoically on the steps, hoods and coats drawn tight around their 3-foot-tall, half-asleep frames. On the bus, they're lured into singing contests and chants and given snacks.
"When we started the program, we had to go into most of the kids' homes and get them out of bed," Holley said. "This year, most of the kids are waiting out in front for the bus, so there's been a lot of improvement." There are lots of hugs, high-fives and pep talks as the kids are loaded onto the bus.
A hand-painted slogan on the outside of the bus reads, "Every School, Every Day," a tagline also used by the Department of Education, although Holley seems unimpressed by the federal government initiative. As the bus pulls away, Holley waves and screams, "Have the best day ever!"  
Last year, in the 2015-16 school year, 104 had its highest attendance rate in 20 years, and their chronic absenteeism rate was at an all-time low of 27 percent. Grady attributes this to a school-wide focus on attendance. There are parties and rewards for perfect attendance, and phone calls home if a student is absent two days in a row. But still, some students are severely chronically absent. She estimates 10 to 15 percent of her students miss more than four school days each month. "I have a long list on my desk of chronically absent students," Grady said.
Holley is convinced you can't fix chronic absenteeism without fixing poverty. "It's a symptom of poverty. It's a red flag if a kid's not going to school. Chronic absenteeism is not the reason they're failing out of school," Holley said. "It's an indication that something is going on with them and that their whole world is falling apart."
GO TO TO THE OST HUB for more information on addressing chronic absenteeism.
More related articles:
Bookstore's Closing Leaves Bronx Residents Disrupted and Nostalgic
Using Online App to Implement Each One Teach One